Dreamy Tubs and Showers
The modern luxury bath comes in all sizes and styles. Freestanding soaking tubs are hot, as are showering systems that offer a full range of spa functions. Complete the look with gorgeous materials like marble, bronze and natural stone.
By Karin Beuerlein
Presenting the Solo Tub
This hammered-nickel tub from Waterworks needs no embellishment — it stands alone as the centerpiece of this bath suite designed by Heather Hungeling. The modern metallic finish offers a fresh counterpoint to the traditional look of columns and dentil molding.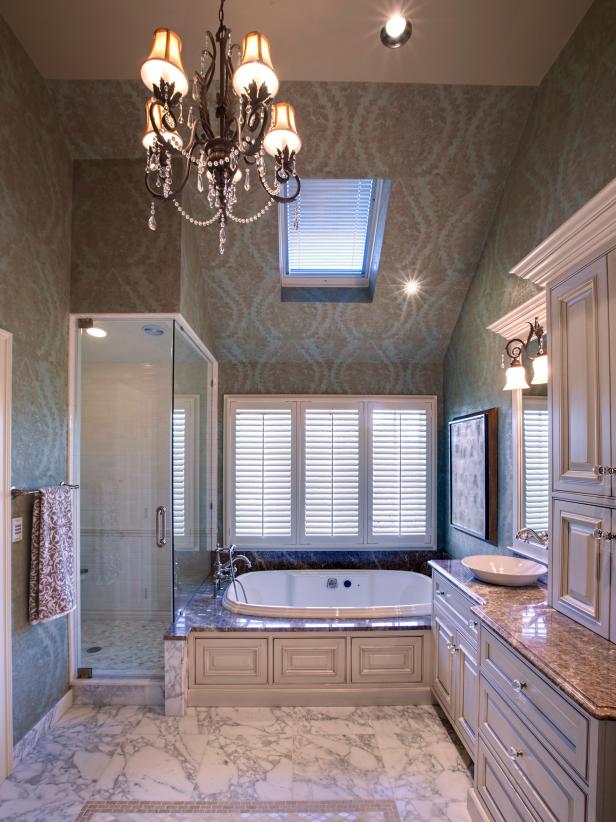 Simply Indulgent Shower
Rather than continue the busy pattern of the marble up the walls, Muller chose a serene and complementary subway tile for the shower's interior. The shower includes multiple body sprays, a rain showerhead and a steam machine for a total spa experience.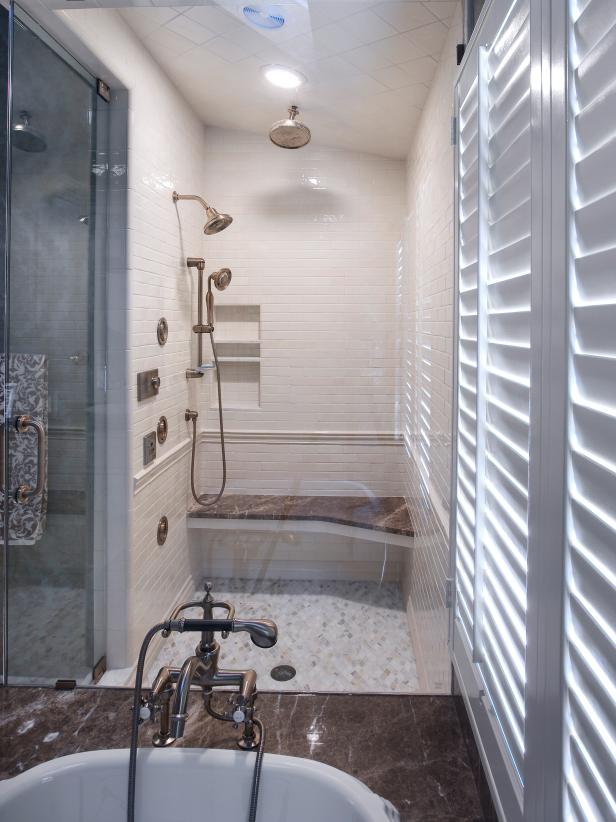 Maximum Function, Minimum Space
Designer Jennifer Gilmer wanted a large freestanding tub and a shower in her master bath, but lacked the room to put them side by side. A trip to Japan inspired her to combine the two in an open space — this arrangement is common there.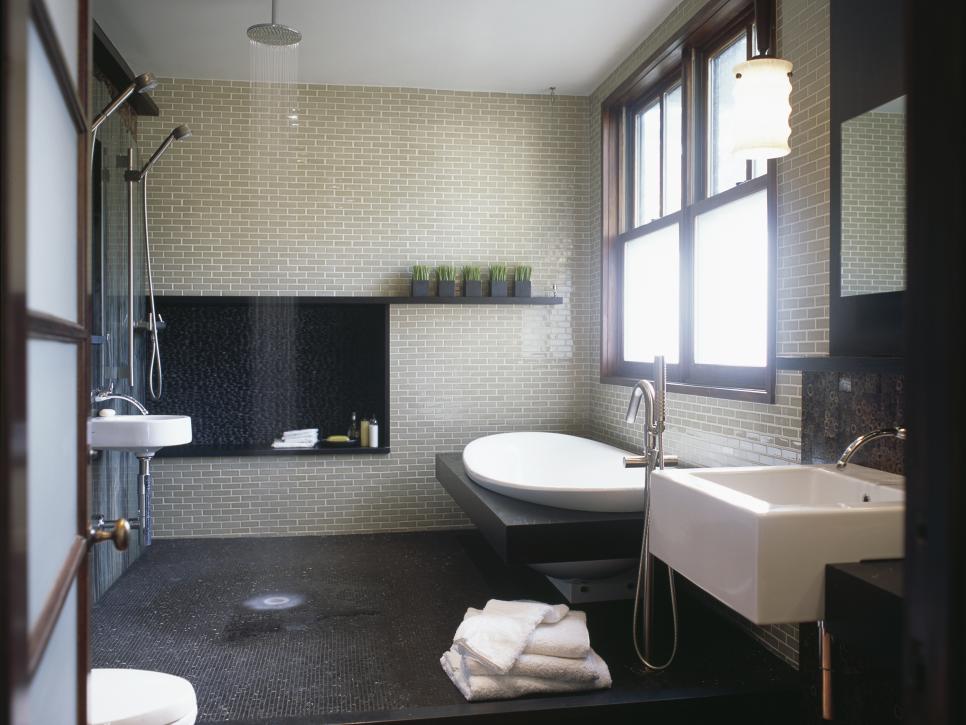 Zen in the Details
Gilmer's materials suggest a Far Eastern sensibility. The shaving sink and showerheads are arranged against a backdrop of Verde Bamboo granite; the opposing walls are covered in a cool green tile; the niche shelving is lined with river rock; and the floor is black marble mosaic.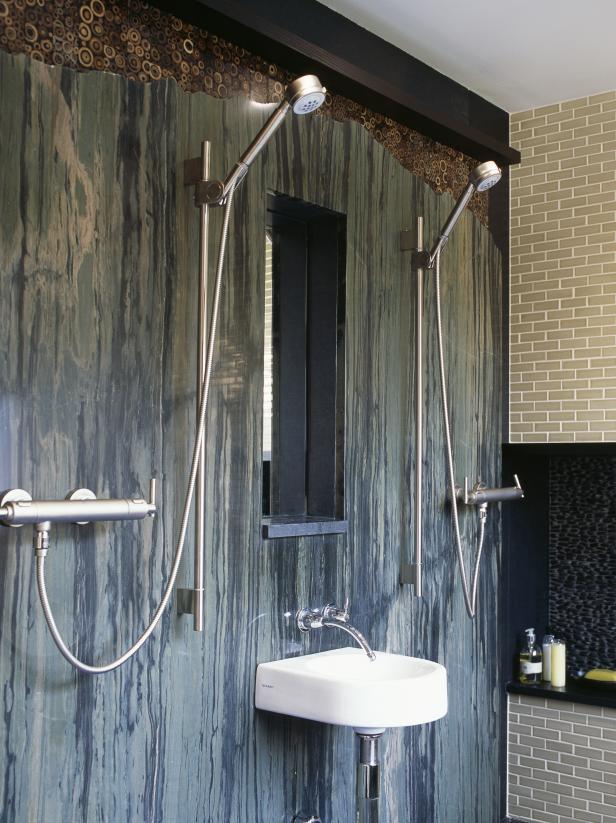 Sleek and Sparkling Ambiance
Gail Drury of Drury Design says that the glass tiles in this contemporary bathroom's steam shower lend a sparkle to the whole room. Floating espresso cabinets and a streamlined tub add to the dreamlike effect.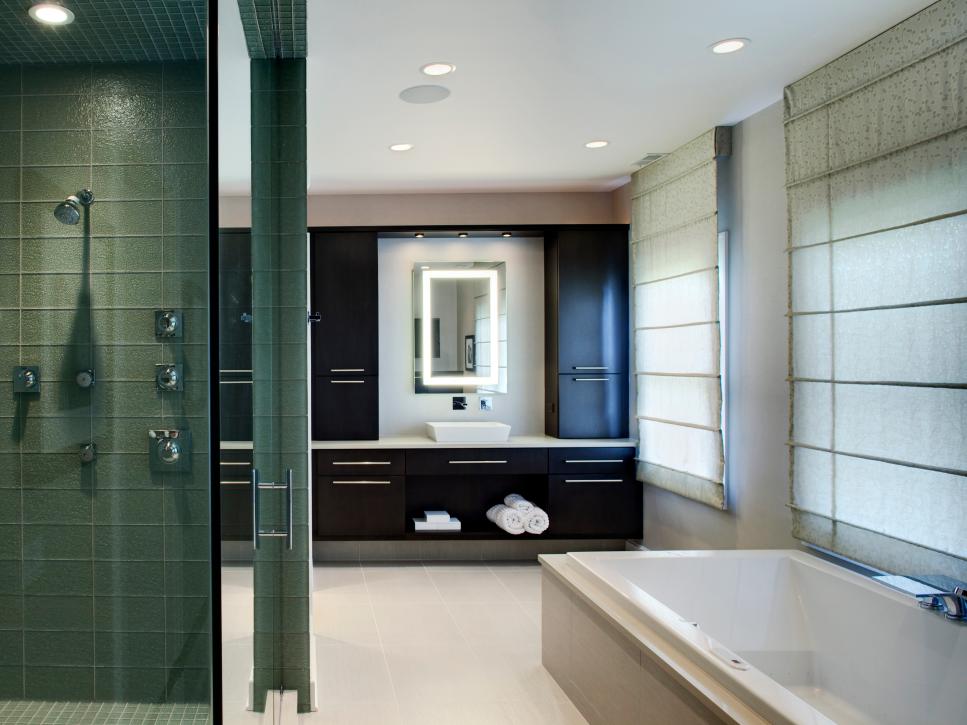 Water, Water Everywhere
Soaking in a full tub is grand, but adding a water feature creates undeniable atmosphere. This gorgeous stone composite tub from Tyrrell & Laing is finished in bronze and rests below a romantic stone water cascade at the Della Terra Mountain Chateau in Estes Park, Colo.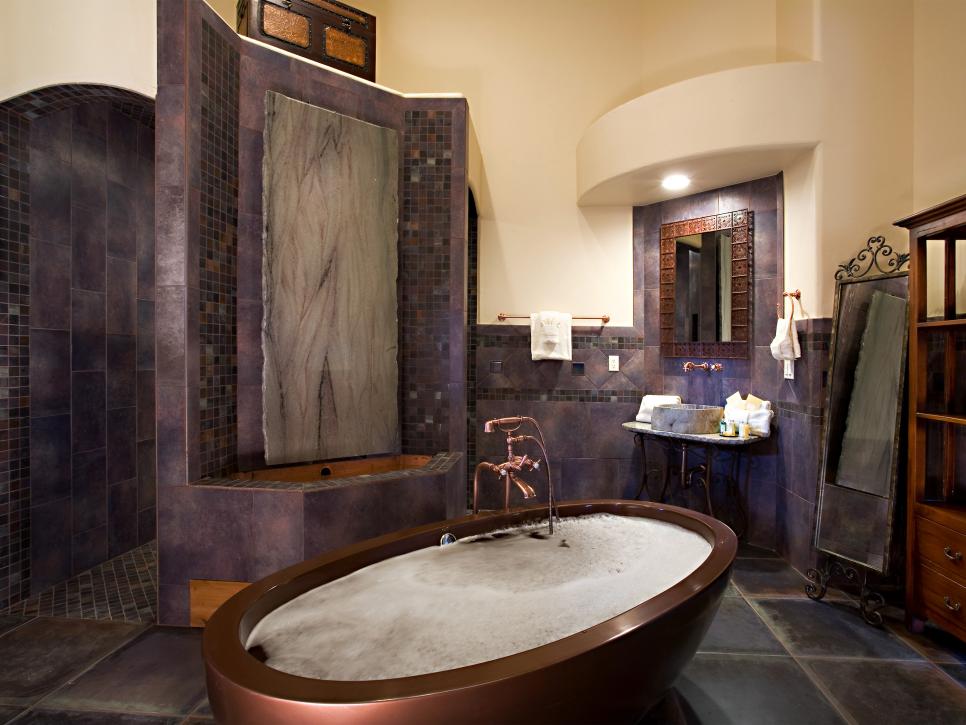 Tranquil Reading Retreat
Gladys Schanstra of Drury Design created this Zen bath for a client who wanted a soaking tub for reading her favorite novels. Sweet details: a river-rock ceiling border for the shower (out of view) and a built-in bathmat comprised of Sobu bamboo tiles embedded in the limestone floor.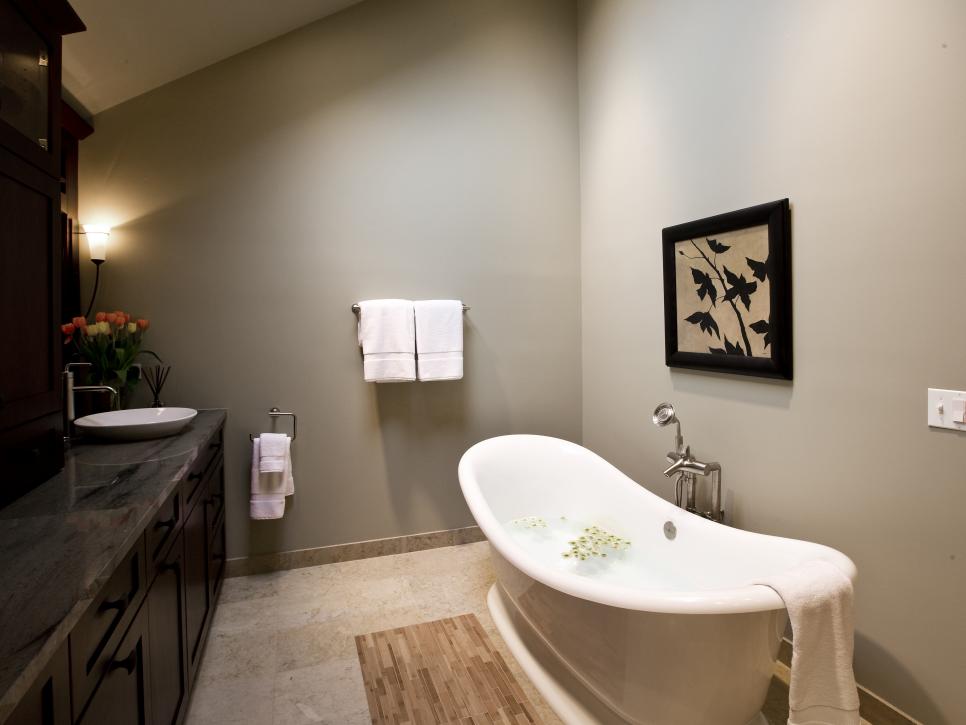 Better Than Natural Stone
The "limestone" in this shower is actually a porcelain lookalike that's less expensive and easier to maintain. The medallion is composed of marble, mosaic tile and natural limestone. The splurge here, says designer Carolyn Thomas, is the curved glass chamber and two-way hinged door that keeps water inside after showering.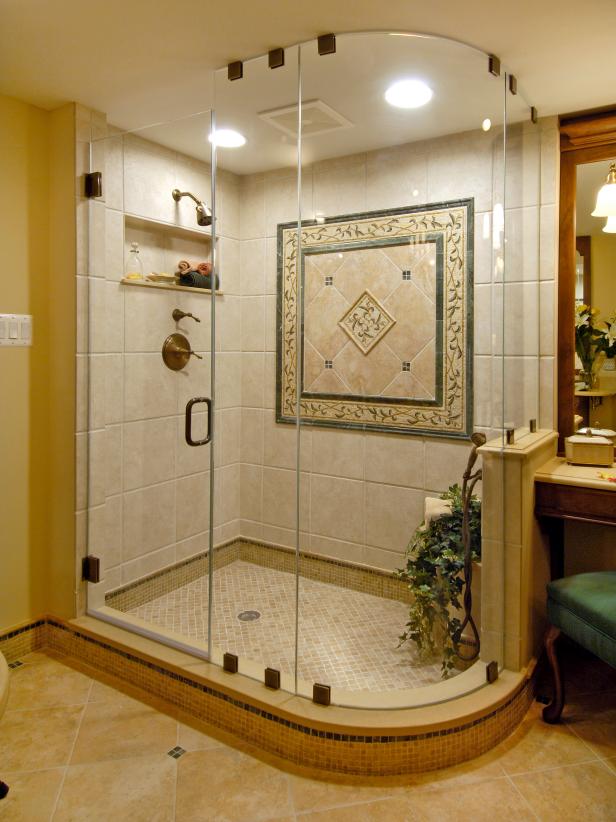 A Tub for a King
This Imperia tub for two by Tyrrell & Laing, shown at Sir Richard Branson's Lodge Verbier in Switzerland, is made of a smooth stone composite that's much lighter (fortunately!) than solid stone. At 76.5 inches long and 45 inches wide, it's one of the largest free-standing tubs on the market.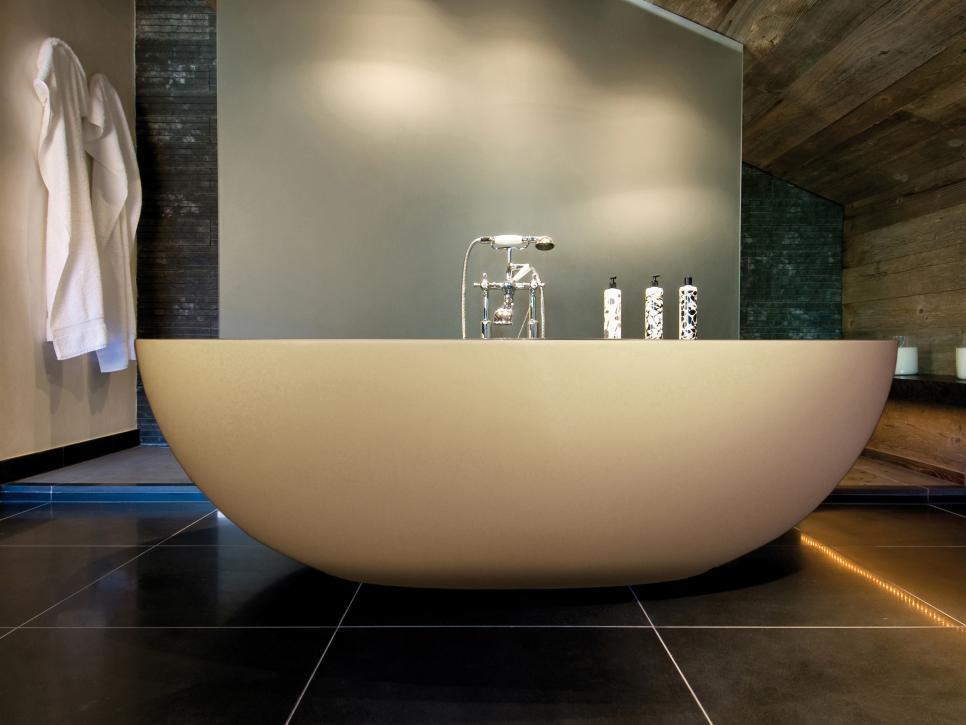 HGTV. Dreamy Tubs and Showers, [Online]. Web address: https://www.hgtv.com/bathrooms/dreamy-tubs-and-showers/pictures/index.html (Page consulted on July 18 2011)